Podcast: Play in new window | Download (8.8MB)
Subscribe: Apple Podcasts | Google Podcasts | Stitcher | TuneIn | RSS | More
This CX Mini Masterclass provides an overview of customer experience strategy. What may seem like an abstract concept is actually rooted in tangible fundamentals. Special guest Ben Motteram clarifies CX strategy, takes listeners through the key components and outlines how you can turn this into an actionable framework.
Insights from a special guest
Ben Motteram is a customer experience specialist based in Melbourne with over 20 years experience developing and implementing customer acquisition and retention strategies within some of Australia's largest organisations. Through his consulting company, CXpert, Ben now assists clients in areas such as CX strategy, Voice of the Customer, and employee engagement. In December 2018, Ben was the only Australian named on a list of global thought leaders to follow on Twitter and his blog has been independently recognized for its insight on all things CX.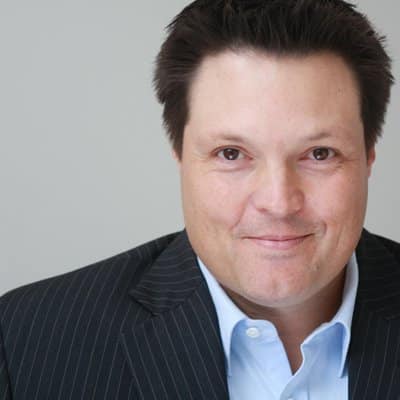 Understanding customer experience strategy
The words "strategy" and "strategic" are used a lot in the business world, but what do these really mean? In it's simplest terms, Ben defines strategy as the statement of a goal and a high level plan about how that goal will be achieved. (That's not so scary, now is it!) Ben frames this up as a map showing where you want to go and how you want to get there. Normally in CX, we start with the customer, but as Ben points out, with a CX strategy, you actually want to start with the organization, and then link this back to customer insights.
Ben defines the key steps to building your CX strategy as follows:
Acknowledge the company vision, mission, purpose and goals – you need to ensure that your CX strategy flows from this, and is aligned to the company's overarching goals. Take the time to document company objectives before you launch into the rest of your CX strategy. If you skip this step, you may find later that the CX strategy clashes with the business objectives and fails to gain traction or support.
Understand what matters to your customers – leverage existing sources of insight such as social media feedback, information from employees, etc. to build a picture of who your customers are and what they want. This information will help ensure that your CX strategy unites both the organization's goals and the customer's goals, and that your efforts are focused where they will have the greatest impact. If you're struggling with where to start, Ben suggests developing a list of what your customers don't like, and base your strategy around eliminating those things from the customer experience.
Define your CX vision – this should take the shape of a statement that is simple, clear, inspiring and realistic. It should be something that can unite the organization around a common goal, and the company needs to be able to consistently deliver on this vision. As an example, Amazon's CX vision is "to be earth's most customer-centric company, and to be a place where people can find and discover anything they might want to buy online".
Develop your CX principles – these are the criteria against which new experiences, products or offers should be reviewed. They should help guide the organization to be customer-centric as the lens through which business decisions are made. Ben advises limiting these to a maximum of 4, so as not to overwhelm teams. These principles should be simple. Think along the lines of "we go the extra mile" or "we're there when it matters most". Before rolling these out, sanity-check them with what they might mean for both employees and customers. Are they clear and realistic?
Create your strategic priorities – this is what you are going to focus on in the short term to achieve your CX vision, or the route you will take to get to your goal. In contrast to the CX vision and principles, these should be quite specific and will change over time.
Identify your CX enablers – these are the systems and processes that will enable the success of your CX strategy. Examples of CX enablers would be things like CX dashboards, CX governance and employee engagement programs.
Bringing it all together
To create a visual representation of this CX strategy, Ben uses the analogy of a house to capture and reflect the different components. Within this context, the company purpose, goals and CX vision will be positioned at the top, with the principles and then strategic priorities flowing down from these. CX enablers are positioned as the foundation of the strategy.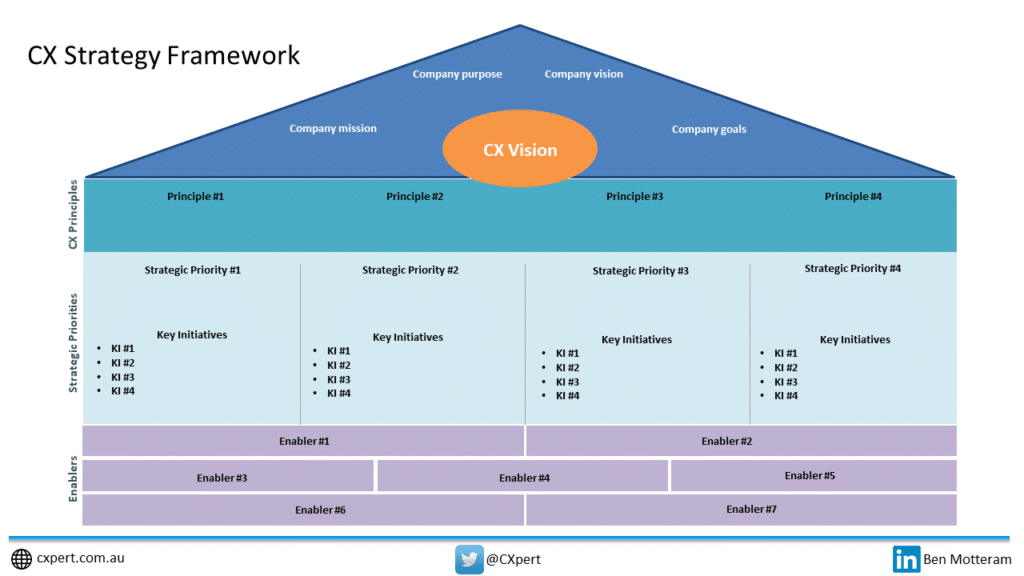 Want to keep learning about CX?
If you'd like to checkout more of these CX Mini Masterclasses or listen to my longer format CX expert interviews, check out the full listing of episodes for this CX podcast.
And if you are looking to super-charge your CX skills and continue learning, be sure to check out CX University. They have a great array of CXPA accredited training resources available on a flexible monthly subscription plan. Use the code PODCAST10 to get 10% off your first month's subscription and support this podcast.
Decoding the Customer is a series of customer experience podcasts created and produced by Julia Ahlfeldt, CCXP. Julia is a customer experience strategist, speaker and business advisor. She is a Certified Customer Experience Professional and one of the top experts in customer experience management. To find out more about how Julia can help your business achieve its CX goals, check out her customer experience advisory consulting services (including employee engagement, leadership alignment and CX strategy) or get in touch via email.