Podcast: Play in new window | Download (Duration: 11:44 — 11.4MB)
Subscribe: Apple Podcasts | Android | Google Podcasts | Stitcher | TuneIn | RSS | More
This CX Mini Masterclass explains the concept of the Voice of Customer (VOC) Feedback Loop and why this is important for customer journey optimization. It's one thing to map the customer journey, it's another to improve customer experiences on an ongoing basis. Show host and customer experience expert, Julia Ahlfeldt, defines the VOC Feedback Loop and shares some practical tips for implementing a framework for continual journey optimization. If you're looking for guidance on how to move journey management from haphazard to gold standard, then this episode is for you.
A framework for customer journey optimization
As an organization progresses up the CX maturity curve and customer experience moves from being a "project" to a permanent fixture within the way of doing business, a key component is establishing a mechanism for ongoing management and improvement of the customer journey. This framework is known as the VOC feedback loop (also sometimes called an insights-to action feedback loop or customer journey optimization).
The underlying idea is that organizations must have an ongoing, sustainable process for unearthing insights about where to improve the journey, prioritizing solutions, implementing change and measuring the impact. This process is continual. As journey improvements are implemented, it creates an opportunity for measuring results and listening to how customers respond. This in turn creates insights that might lead to future improvements, hence the term "feedback loop" and not "improvement process".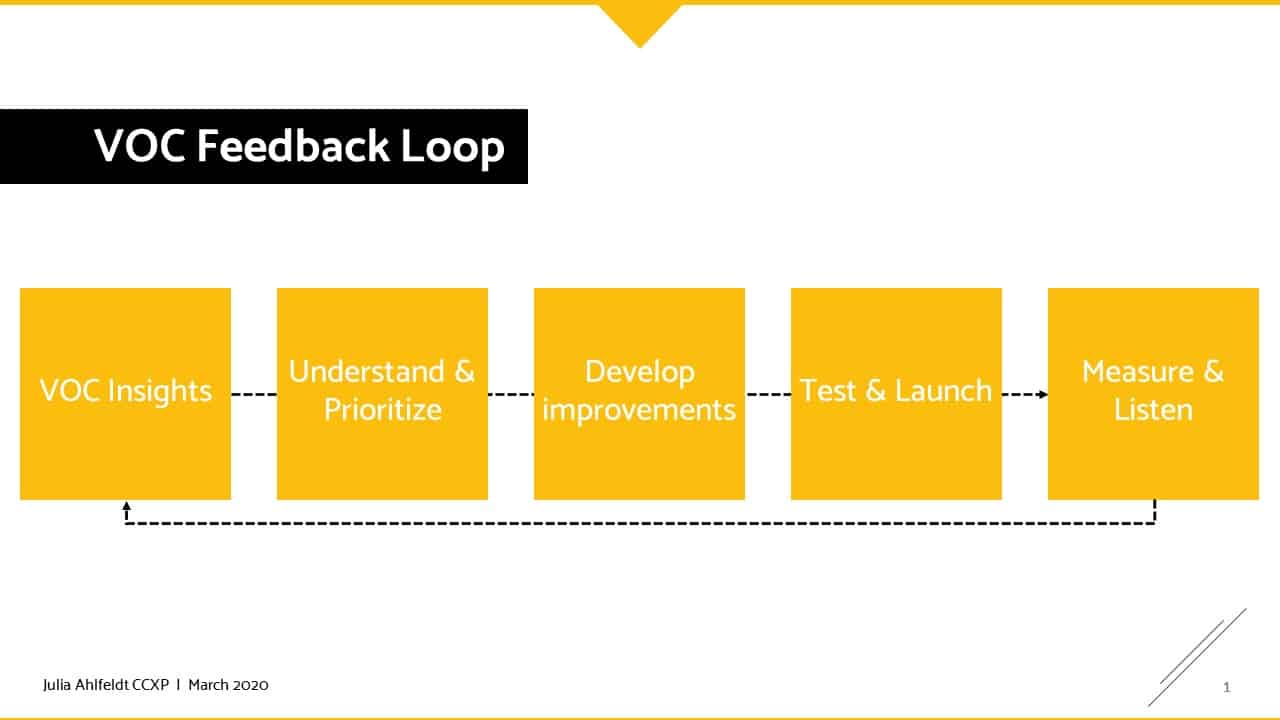 The VOC Feedback Loop is not to be confused with Closed Loop Feedback, which is the process of getting back to a customer, after they've provided feedback about their experience. For more detail on Closed Loop Feedback, be sure to check out episode 42. 
Why this matters
When an organization launches a customer insights initiative or maps the journey for the first time, this undoubtedly highlights opportunities to improve experiences. The natural reaction is for the organization to establish a project or a task force to identify, prioritize and implement possible solutions. This can be an effective way to raise the profile of the customer journey, but the challenge with ongoing sustainability is twofold.
First, the list of identified improvements is often overwhelmingly long, so much so that it's not really suitable for a 3, 6, 9 maybe even an 18-month project. The second challenge is that the journey and underlying needs of customers aren't stagnant. They're ever-evolving. If a CX team were to do customer research or map the customer journey today, 6 months later there would be new needs and issues. Why? Because products, services and customers are always changing.
For these reasons, CX leaders can't expect to just map the customer journey every few years, come up with a big list of fix-it items, go to work on those and call it good. Ultimately, to establish sustainability and realize the business benefits of customer journey optimization, there needs to be a Voice of Customer Feedback Loop so that issues with the customer journey are constantly being scrutinized, solutions developed and improvements deployed.
Tips for an effective VOC Feedback Loop
As with most things, there isn't a one-size-fits-all solution for ongoing customer journey optimization. That said, there are best practices that CX teams can adapt to their context:
VOC insights: Establish an ongoing process for aggregating customer insights from across the organization. The answer for where to get this data will be different for every organization, but regardless, CX teams need to be continually sourcing, consolidating and reviewing voice of customer data. Ownership is key, this should be part of someone's regular job responsibilities. (VOC is a huge topic, so be sure to check out episodes 39, 40 and 41 for more detail.)
Understand and prioritize: As issues are raised and solutions are vetted, they should be prioritized based on impact to the journey and to the business. Again, that's a big topic on its own, so check out episode 54 for an approach on prioritizing journey improvements. The bottom line is that CX teams need to ensure there is a prioritization process in place so that the VOC Feedback Loop will have the biggest impact both in terms of ROI and creating a better journey.
Develop improvements: Governance and creativity are required in equal measure. Cross-functional participation in the process will be key, as will a regular structure for evaluating issues and developing solutions. Many organizations establish a customer council or steerco whose responsibility is managing journey improvements. A respected senior leader should chair this and remain committed. This group should have a clear mandate, objective and cadence for meeting. 
Test, launch and implement: This is where the project management mindset is a-OK. CX teams may want to leverage the same leader-led governance mentioned above to establish accountability and planning for implementing journey fixes. The work will undoubtedly be cross-functional. If there is a PMO office, CX teams may want to tap into this for expertise and support. It is imperative to test and refine before journey fixes become permanent.
Measure and listen: If journey improvements are crafted with a clear goal in mind, then measuring success will be fairly straightforward. Metrics should be in line with objectives and be reported regularly (e.g. monthly, quarterly). These measurements are the customer journey optimization success stories back to the rest of the business, so CX teams should factor in ROI, customer testimonials and whatever else will resonate with the stakeholder audience.
For all phases of the VOC Feedback Loop, consistency is key.
Want to keep learning about CX?
If you'd like to checkout more of these CX Mini Masterclasses or listen to my longer format CX expert interviews, check out the full listing of episodes for this CX podcast.
Decoding the Customer is a series of customer experience podcasts created and produced by Julia Ahlfeldt, CCXP. Julia is a customer experience strategist, speaker and business advisor. She is a Certified Customer Experience Professional and one of the top experts in customer experience management. To find out more about how Julia can help your business achieve its CX goals, check out her customer experience advisory consulting services (including CX strategy, voice of customer and culture change) or get in touch via email.